Let us create a unique vending experience meeting your healthy beverage, food and snack needs.
BEVERAGE AND SNACK VENDING MACHINERY
San Diego Vending offers a large number of diverse vending equipment options to meet your organizational needs. We offer both beverage and snack machines as well as combos for your consideration. All our systems can be supported with integrated credit card systems supporting Debit, Credit, and Apple Pay among other payments including cash of course.
Automotive Sales & Service Markets
Hospitality Industry
Employee Breakrooms
Customer Service Lounges
Pharma and Biomedical Research Industries
Academia
Professional Services Industries
R&D and Manufacturing
Executive Office Sites
High Rise Buildings among many others throughout San Diego and Orange Counties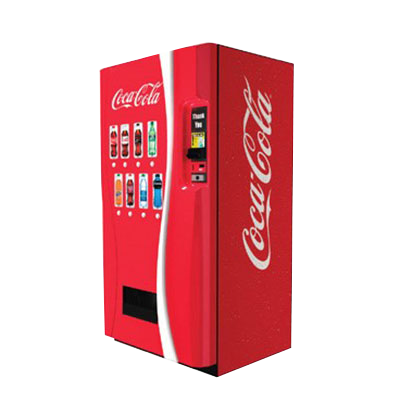 San Diego Vending will place state-of-the-art vending machines at your facility. We offer all Coke and Pepsi products in our machines including Powerade, water, and energy drinks.
This custom vending machine can support companies with 150 or more employees. This machine can hold 360 20-OZ. beverage bottles.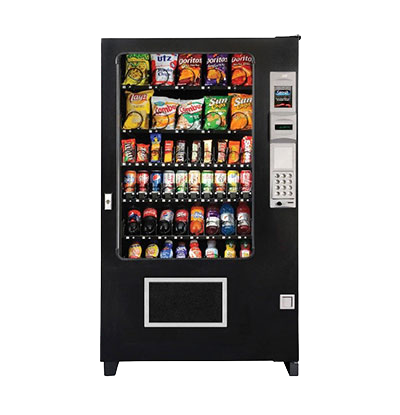 San Diego Vending can also meet your snack and beverage needs using a single combo machine. The pictured machine can hold up to 25 snack selections including gum and mints and up to 16 different beverage selections. We offer both indoor and outdoor vendors.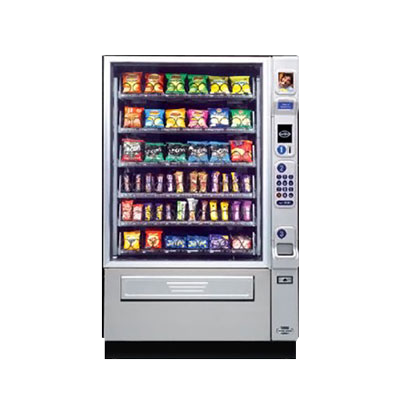 We offer a wide selection of snack vending machinery. Our snack machines can offer up to 45+ different selections to meet your employee as well as patron needs. We offer brand name chips, candy bars, nutritional bars and other healthy snacks.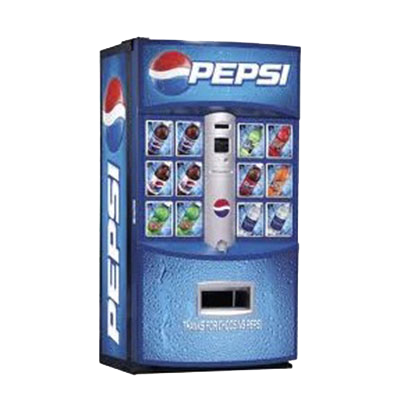 The High Visibility Vendor from Pepsi is available to all our customers. Our machines can hold both 12-oz. cans and 20-oz. bottles.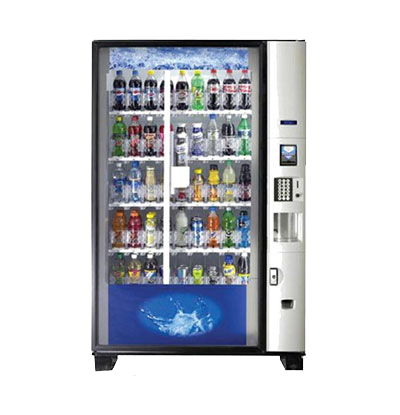 We are pleased to also offer you state-of-the-art Pepsi based glass front vending machines.
VENDING EQUIPMENT
We provide high quality vending equipment systems from name brand organizations including Bev 4 vendors from Coca-Cola and Pepsi-Cola as well as combination machines for your organization.
SERVICE SCHEDULE
We can manage everything you need to meet your snack and beverage vending experience including those for both patrons and employees. San Diego Vending will schedule your vending service interval to meet your organizational needs whether weekly or bi-weekly without interruption or follow up. Customer contact and feedback is always welcomed of course as that allows us to improve upon our service level.
SPECIALTY BRANDS
We enjoy offering a number of brand named beverages including those from Coca-Cola and Pepsi-Cola. Healthy items from Coconut Water to Vitamin Water to products from the likes of Jones Soda and Stewards Soda. We also offer a wide variety of energy drinks including Monster, Redbull, Rockstar as well as the recently released Starbucks Coffee energy drink.
VENDING & COFFEE MICRO MARKET SOLUTIONS
From customized beverage and snack configurations to a gourmet coffee experience in the business environment configured to meet the needs of employees and patrons alike. We would enjoy working with your organization to customize your respective Micro Market solutions from both beverages, food, snacks and coffee to meet the taste profiles of your organization's unique beverage and coffee drinking culture.
MAINTAINED EQUIPMENT
Our beverage and snack systems are maintained for operational efficiency including our credit card systems. We repair and maintain all of our own equipment. That's a big deal!
EXCLUSIVE MACHINES & BRANDS
We are a Preferred Starbucks™ Coffee Provider including Seattle's Best™ and Tazo Tea™ products. We also distribute other well-known brands including Peet's Coffee™ and Gavina™.
ENERGY DRINK OFFERING
We offer a variety of premium Energy Drinks for your organization. This includes products from Monster, Redbull, and Rockstar among others including Starbucks. We will offer your organization a unique energy drink offering including zero calorie products or a variety of flavored energy drinks for your consumption.
NUTRITIONAL FACTS
Did you know we can provide beverage and snack nutritional information on the products in our vending machines directly through our credit card processing systems. Just ask us how!